You can straighten your teeth discreetly with Invisalign®.
Made of a clear plastic, the aligners are custom-fit to you. To plan your treatment, we'll first discuss your goals for your smile, and determine if Invisalign® is appropriate for your case.
Then, we'll take x-rays and a photo of your smile.
We'll also take impressions of your teeth.
We'll use your custom models to create your treatment plan.
The Invisalign® software allows us to see how your teeth will move into their final positions.
You will receive a sequence of aligners designed to move your teeth through each stage of your treatment.
Invisalign® takes a modern approach to straightening teeth, using a custom-made series of aligners created for you and only you. These aligner trays are made of smooth, comfortable and virtually invisible plastic that you wear over your teeth. Wearing the aligners will gradually and gently shift your teeth into place, based on the exact movements your dentist or orthodontist plans out for you. There are no metal brackets to attach and no wires to tighten. You just pop in a new set of aligners approximately every two weeks, until your treatment is complete. You'll achieve a great smile with little interference in your daily life. The best part about the whole process is that most people won't even know you're straightening your teeth.
Financing Options Are Available for Invisalign Services

---
Invisalign® for Adults
Being self-conscious about your teeth can often keep you from being yourself, whether you are making a business presentation, or going out with friends.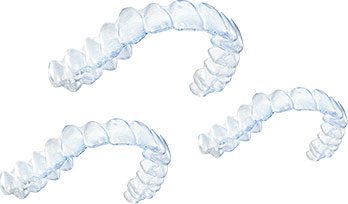 Adults don't always feel comfortable wearing the traditional wire braces to straighten their teeth. Using the Invisalign system, individuals can have straight, beautiful smiles in less time at almost the same cost as metal braces. No need to feel self-conscious since the aligners are almost invisible, and they don't require as many office visits as traditional braces.
In the office an impression is taken of the patient's teeth to create the Invisalign aligners. The aligners are invisible, removable, and have smooth edges so they won't irritate gums and will be comfortable to wear.
---
Invisalign® for Teens
You know, as a parent, that deciding to straighten your teen's teeth isn't a choice you should rush. It will not only have an effect on his or her life right now, but on their future also. Between school, prom, sports, and their first job, metal braces may not be ideal. You want them to have the confidence of a great smile. Invisalign Teen, with virtual invisible aligners, will do the trick.

Invisalign provides a more flexible, aesthetic way to give teens the confidence of a great smile. Invisalign aligners are comfortable, nearly invisible, and removable, unlike the old metal braces. That means teenagers go on enjoying life without the irritation, restrictions and self-consciousness there was with metal brackets and wires.
Invisalign aligners are removable, which means teenagers can continue brushing and flossing normally. Thus they have better overall dental health in the long term.
The benefit is fewer doctor office visits. That means less time away from your busy schedule. There is Blue Dot Wear Indicator on each aligner that provides you with an approximate gauge to tell you whether your teen has been wearing the aligners consistently. When these indicators you will know it is time to move to the next set of aligners.
If something an aligner is accidentally thrown out, lost or broken, we will give you up to six free replacement aligners. One more excellent reason to make Invisalign Teen your choice.
We'll be happy to discuss the options available to you so that you know the very best choices available for your teenager.